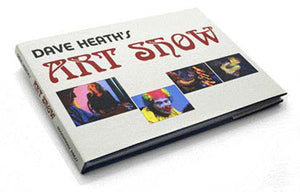 CJ Oyster Publishing
David Heath: Art Show Hard Cover (Limited Edition of 1,100)
Dave Heath (b at Philadelphia, PA 27 June 1931 d. Toronto, ON 27 June 2016). The late Dave Heath was widely known for his highly acclaimed 1965 landmark publication; A Dialogue With Solitude, apublication of Dave Heaths early black and white street photography from the late 50's and early 60's photographed primarily in Philadelphia and New York cities. The first printing sold out quickly as did the second printing by Lumiere Press in 2000. It has always been a sought after book.
Dave Heath did not create another publication until Dave Heath's Art Show which concentrates on what we now know was the final creative chapter in Dave Heath's life and showcases colour street portraits from the period between 2001 and 2007 when Heath switched to digital colour photography. Photographed primarily in New York and Toronto, it is the only publication ever produced that is dedicated solely to this body of Heath's work. Comprised of over 160 photographs, Dave Heath's Art Show exhibits the characteristic attention to detail in image selection, sequencing and layout that was his signature in A Dialogue with Solitude and through his subsequent slide shows and gallery exhibitions.
In his own emotionally charged photographs and curated slide shows, Dave Heath often explored alienation in North American society. His work draws inspiration from his own personal experiences as an orphan and as an American combat soldier in the Korean War. Heath exhibited across the United States and Canada including group and solo exhibitions at San Francisco Camerawork, Photofind Gallery (New York), Stephen Bulger Gallery (Toronto) and the CANADIAN MUSEUM OF CONTEMPORARY PHOTOGRAPHY (Ottawa). His photographs are represented in the collections of the National Gallery of Canada, the Museum of Modern Art in New York, the Art Institute of Chicago, the International Museum of Photography, George Eastman House (Rochester, NY), and the Canadian Museum of Contemporary Photography, The Philadelphia Museum of Art, The Nelson- Atkins Art Museum, Kansas City, among other institutions.
---
More from this collection